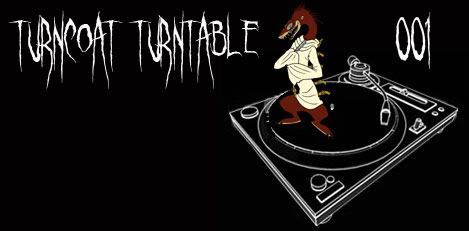 This site is a new beginning, so I've aptly chosen the freshest contribution, Endgame from pioneers Megadeth for our first edition of album review post, "Turncoat Turntable".
While starting an album with a 2.5 minute guitar intro, consisting of 4 solos each for both Dave Mustaine and our own Chris Broderick is quite the pompous move, it delivers well enough. The first full band arrangement "This Day We Fight" starts with a gripping rhythm (that doesn't let go…) showcasing a trend that continues through the record. "44 Minutes"' symphony like guitar intro leads us into a mid-tempo, melodic and catchy cut like many fan favorites over the years.
While United Abominations had more melodic riffing, heard in the haunting and fantastic breakdown of "Bodies", Endgame as a whole is a call to the golden years' roots of heavy, relentless axe grinding. "Bite The Hand" does just that with it's crunchy rhythm introduction. The acoustic and strings of "The Hardest Part of Letting Go" come in with a very crisp, powerful mix.  The production is powerful.  The minor toned ballad shows that their new Vic's Garage studio demonstrates great potential. The album's biggest (and only) downfall is the sloppy, abrasive transition from "Letting Go.." to Endgame's weakest link, "Head Crusher." This piece is the reason why the album must speak for itself, instead of the band/label's poor first single.  It spoke "WWE fan" and the trivial, yet aggro chorus that would appeal to such masses.  I found out tonight that the video is a mock on UFC…. go figure.  Luckily, my favorite of the album, both lyrically and musically "How The Story Ends" redeems any lack of quality. The tasty latin/flamenco inspired fill before the overdriven solo takes over, is nothing short of perfect. Favorite lyrics read 'Above the ring of clashing steel, they raise flags of war. A sign to all the warriors who cannot hear. Amidst smoke of cannonballs, they bang the drums of death. Pound a cadence out for those who cannot see'
The lead guitar work on the album is phenomenal.  The replacement of Glen Drover (current drummer; Shawn Drover's brother) has certainly upped the ante when it comes to the lead guitar sharing. While having two masterminds dueling it out sounds great, it comes a little too often and tends to be excessive.
In conclusion, one thing's for sure… I'm grateful that in an age of formulated pop sensations, Nickelback wannabes and "metal"; a genre that has lost any attention to cunning vocals, we still have Dave Mustaine incorporating both pop and rock with heavy metal intensity 26 years later.





out of 5 weasels
Choice cuts: 44 Minutes, Bodies, How The Story Ends
-Weasel Was Here
Megadeth – Endgame
(press PLAY to preview track, or track name for lyrics in a new window)


1. Dialectic Chaos

3. 44 Minutes

4. 1,320′

6. Bodies

7. Endgame

8. The Hardest Part Of Letting Go…

9. Head Crusher
Never trust a weasel. Support the artist and decide for yourself. Lyrics courtesy of Megadeth.com. 30 second track previews  courtesy of Amazon.com, where digital and compact disc releases can be previewed and purchased here. WestCoastWeasel.com encourages purchasing "Endgame" locally at Scrape Records.