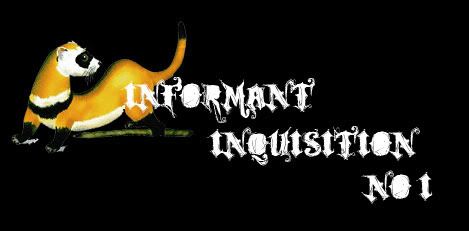 As I arrived to the Gaslight Anthem show w/ Frank Turner, The Loved Ones and Murder By Death on 09/24/09, in Vancouver, B.C., I noticed a familiar face behind the merchandise table.  It was Frank Turner, the folk rock, Xtra Mile/Epitaph recording artist, selling what was left of his merchandise that made it across the border.  He agreed to do an interview later on in the evening.  I couldn't help but feel like "the enemy" from Almost Famous as I fumbled around with pages from a notepad (digital from here on in…), jotting down our discussion.  Frank was a great sport and I'm very honoured that he is the first of many to be interviewed for our Informant Inquisition series.
Weasel: Poetry of The Deed is your third release, correct?
Frank: Yes
Weasel: What new things can fans expect with this release?
Frank: The main difference is that it was recorded with a live band, where previous releases I pretty much recorded everything alone.  Because of how great they (the band) are, I felt I should use the resources available to me.  I wrote the songs the same way, but were recorded differently.
Weasel: Now that you have a distribution deal with Epitaph records, are you getting the push you feel the album deserves?
Frank: Ha! I don't like to use the word "deserve" as it can be presumptuous.  Epitaph is a great label and they "get me" and what I'm doing.  It's been a positive experience, so yeah, I'm happy about it.
Weasel: I'm surprised that with the resurgence of vinyl, that Poetry of The Deed wasn't pressed in such a format…
Frank: It will be.  It's being pressed at the moment.  Personally, I wasn't ever a big vinyl guy but all releases are being produced.  I recently approved vinyl artwork via email, so it's getting done.
Weasel: Can you tell me more about your previous efforts, in other bands, and are releases available?
Frank: I played in a whole ton of hardcore bands, that were mostly awful.  My last band, "Million Dead", that I have tattooed on my arm (Frank shows me his "Million Dead" tattoo on his left arm) put out two albums that I'm proud of so you can probably get them.  It's a part of my life that's in the past, and something I don't really want to spend too much time talking about.
Weasel: Who are your main influences not that you play folk rock?
Frank: Springsteen's a really big one.  Have you ever heard of a band called "The Levellers?"
Weasel: No, I haven't.
Frank: They were huge in the 90's, in the UK but I guess they may not have broke into North America.  Somewhere between Springsteen and The Levellers is where you'll find me.
Weasel: I saw your interview/performance at CNN.com (shown below).  How did that come about? Can you describe the experience?
Frank: Peter, the CNN music guy's really into it, a fan.  He asked and I wasn't going to say no.  It's kinda weird because it was recorded in a room a quarter of the size of this. Performing with one or two other people in the room, so not too exciting but it gets out to a lot of people.
Weasel: Well thank you very much for your time Frank.
Frank: No problem
- Weasel Was Here