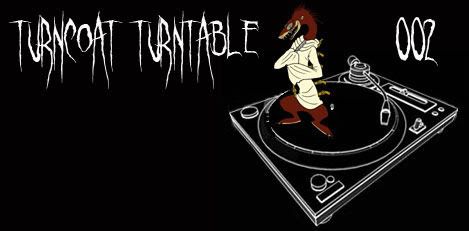 What can a seminal "grunge" band do a decade into the millennium that they haven't already done (or, at least not for a while)?  To my surprise —a lot.
Let's start with getting Brendan O'Brian (AC/DC, RATM, Springsteen) back on both the mixing board and producing duties.  O'Brian mixed and/or produced four Pearl Jam albums between 1993 and 1998.  He also brought new life to their breakthrough debut Ten when he remixed it for rerelease earlier this year.  Brian took them out of their hometown, Seattle, for the first time since No Code in 1996.
For the first time, PJ are self-releasing the album on their own Monkeywrench Records in the US, with an exclusive "chain" deal at Target.  Unlike other big-player exclusive deals in recent memory (AC/DC, Guns N' Roses), all independent record stores are free to sell the album.  It's nice to see a band get in bed with a corporation that doesn't see indies as a threat, while maintaining "street cred" by avoiding another slap-in-the-face distribution deal.  If you buy the CD or through iTunes you get your choice of 2 of 11 free live concert downloads.  Want to jam along?  The entire album is available on the video game Rock Band.  The band that told TicketMaster to fuck off is still going to bat for the fans.


Backspacer starts with "Gonna See My Friend," a straight forward, simple, in-your-face tune about visiting a friend in hopes of dodging a growing addiction. While it bursts with bluesy, catchy riffs, the constant repetition of the song's chorus is mundane.  It has no hook.  The complete opposite is true of my favorite track "Got Some."  The guitar intro comes off like an 80's synth, while the head shaking tom's tease strips it back, allowing the vocals to guide us into the catchiest cut on the album.  I can visualize Vedder's squint as he immediately captivates the listener.  The verse, the bridge and chorus are the hook, the line and the sinker respectively.   Matt Cameron impresses and teases yet again with booming tom fills before the band brings it back home.
"The Fixer" is really the only other track that I noticed new wave or 80s pop influences, despite the record's initial reputation.  One thing's for sure: you can hear Vedder smiling, just as you notice yourself doing the same.   He wants to 'put a bit of fixin' on it… put a little exciting on it… put a little high on it…' He even wants to 'try to love again.'  If the man behind songs like "Black" (from 1991's Ten) is penning songs like this in a time far more desolate, we can only feel obligated to share his optimism.  I know I do.
All lyrical duties, for the first time since 1994's Vitalogy, are solely in Vedder's hands.  He shifts the tone, showcasing his softer side on "Just Breathe."  Vedder's been quoted saying it's "as close to a love song as we've ever gotten."  The lyrics are both brilliant and touching.  The song appeared originally on the fantastic Into the Wild soundtrack /score that Vedder released as his first solo effort.   Though other tracks on the soundtrack rival "Just Breathe," it can be found there in its original, instrumental form, "Tuolumne."
Hopeful lyrics and a piano infused, epic rocker are found within "Unthought Unknown," while a song about the love of music comes off as believable in a danceable, bluesy, power-pop titled "Supersonic."
While an album clocking in at just less than 37 minutes shouldn't contain filler, it does.  "Amongst The Waves" and "Speed of Sound" could have made their short list, shorter. "The End" demonstrates Vedder's bruises as he weeps amongst the strings and acoustic guitar; a valiant attempt to complete their latest "rock" effort.