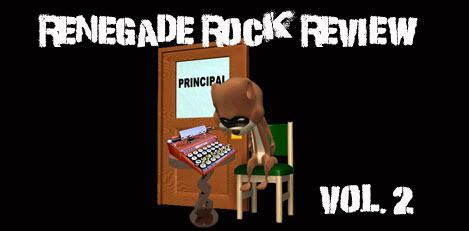 The line-up of hardcore cohorts outside 917 Main St. was growing at an accelerated rate prior to the door opening—only to close The Cobalt's doors for i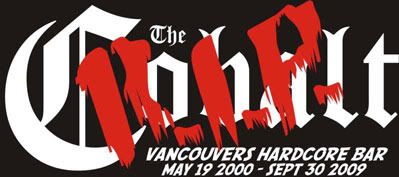 ts very last Saturday night.  I knew that the higher than normal door price of $15 (yes, you read that right) was going to compensate both bar and baron.  We were all in for a treat, and not a single one of us doubted it.  Although tonight's entertainment includes Vancouver's legendary Subhumans, Alcoholic White Trash, Speckled Jim and book release from Chris Walter, it's really only half of it. Punk rock and heavy metal scenes are often described as communities.  The vibe tonight was nothing short of neighbourly.
Mr. Plow and his brand of solo, comedic, folk-punk started the night's program with myriad of tongue-in-cheek subject matter ranging from gluttony, bubble baths, taste in women, donkeys and his crackhead doppelganger.  He mentioned how he prefers women who are up on current events and geometry, rather than big tits and a tight ass.  He followed with a pair of feminist eyebrow raising jingles: one full of one-liners that 'will either get you laid or punched in the face and one about "the love of breasts of all sizes."  Mr. Chi Pig (SNFU), a Cobalt stalwart interrupted between songs to comment on the hairy "man tits" our Mr. Plow carries.  Mr. Plow had the growing crowd scream, "Fuck you, Sahota" and declared it the theme for the evening.  Sahota is the landlord and alleged slumlord enforcing the close of the bar.  Mid-song, he teased Chi with a GN'R "Patience" parody verse: "Chi Pig, the nights are in your eyes.  You might not know you already made it."  Chi delivered that creepy, admirable smile he's known for as Mr. Plow exclaimed, "Chi Pig, you're a fucking rock star!"  Anywhere else this might not compute.  If there's a rock star at all this night, it's him.  The set closed with a fan-favored rendition of Gwar's "Fish Fuck"
Believe it or not, literary efforts are often showcased at The Cobalt, and tonight was no exception.  Punch the Boss, recalls author Chris Walter's (Wrong, Personality Crisis, I Was a Punk Before You Were a Punk) experiences in various forms of employment over the years.  Chris read an excerpt describing his last night working for Rayovac, a battery manufacturing facility in Winnipeg, and how he found solace in the fact that the batteries would be used for vibrators.  Beer was thrown in Chris' face, and again on his leg, as some drunk, unappreciative punk tossed his drink.  Chris took it in stride, though he suggested the "douchebag" be removed from the show; he was.  There was no compassion for the kid, from me or anyone in the room.  Tonight was not the night.
Speckled Jim, the first full band of the evening, came to share their blend of 50s rock, Ramones-like pop and Clash-like grit. "Damned Cover Band," a twangy number about a worn-out shirt wearing girl, enamoured with a cover band of the Damned.  The lead vocal duties alternated between Scott Farquarson, Rob Thomson and my personal favorite Shaun "Butch" Murphy.  I preferred Shaun's snotty, Iggy Pop-esque snarling to the Paul Westerberg or Joe Strummer-ish stylings of the other two.  All guitar duties were shared amongst them.  The set contained numerous catchy sing-along tunes such as "I Don't Wanna Get Over You."  The sound often clipped and distorted, but the performance yielded positive, toe-tapping results.

The aptly named Alcoholic White Trash hit the stage with full intentions of kicking things up a notch or two.  "We are losing our home!" preceded their set of thrashy, metal-like riffing and hardcore anthem style choruses.  Front man, 'Ratboy' Roy asked, "What is wrong with this fucking city? You gotta roam around where you don't belong since they've closed where you do!" expelling the only thought provoking banter of their set. "Hutterite Stud" and "Punk Rock Jihad" were played before they closed with "Alcoholic White Trash."  Punks raided the stage to provide guest vocals and stage diving alike; they shouted together, "we're alcoholic white trash, so fuck you!"  Earlier, Roy promised he'd roll around, suck his own cock and roll off the stage.  He was after all, "the first to suck his own dick." Despite his empty promises, along with both band and crowd's unison cheer "suck your dick, bitch!" we only got pubic hair, the top of his johnson and a "moon."
By the time our headliners, the Subhumans, appeared on stage, the bar was packed with every de-facto style head-banger, punk and music nerd alike.  The band released their first self-titled EP in '79, disbanded in '83, reformed in '95 and reunited in '05.  They have since released New Dark Age Parade on Chris Hannah's G7 Welcoming Committee Records and Jello Biafra's Alternative Tentacles Records in Canada and the US respectively.  Death Was Too Kind followed in 2008, on Alternative Tentacles.  (If you don't know who those people are or what music they release, find out.)  This new era of Subhumans, containing three original members is the one here tonight.
"21st Century" and "Celebrity" started the set, right before I got word of police arrival.  I'm unsure if many people even realized who was outside.  A friend of mine informed me, and although I could see the cherries creeping in to my right, the celebration continued without a hiccup.  I'm unsure what their gripe was exactly.  All those kids hanging out and smoking outside?  Probably just a marginal increase from any other night.
"People Gonna Pray," a song about the downtown eastside and "Moving Forward", a political attack at the Bush administration played mid-set, were my favorites of the night.  Another knucklehead was called out for spraying beer onto the guitars. I didn't catch the outcome of his fate. The subject of standing up for one's self had the crowd shouting in unison "Fuck You!" in the aptly titled "Fuck You." (free MP3, courtesy of G7 Welcoming Committee Records)"I Got Religion" angrily demonized religion as a power tactic and a crutch, while a young, blonde haired girl in a pleather mini-skirt soon joined the guys onstage, along with her accordion.  She fell flat on her face before she could even find her groove.  Like a trooper, she got up and contributed to the last two songs of their set.  Old school fav's "We're Alive" and "Slave to My Dick" were included in the encore that followed.
("Fuck You" live in Vancouver, 1978 video footage courtesy of doreengrey)
As the night came to end, the camaraderie rose.  Without a single accident, altercation or injury—why must this place cease?  Even Leon, a late night regular and self-proclaimed 'normal guy, who's "not all up on the music" but "loves coming here all the time after work," will have to find a new, late night dwelling.  The Cobalt was a home for many within a community.  Wendy Thirteen (manager, interviewed in Informant Inquisition No II) provided an asylum for punk kids, metal-heads, misfits or anyone who liked hard-edged rock n' roll music.  Vancouver and its music scene will lose a part of its soul this week. My first punk rock show was 14 years ago.  It's nights like this that solidify my patronage for years to come.  Whether you wear the "scene" on your sleeve or not, a staple music venue will be closed, leaving a slumlord in a capital position for 2010 and the rest of us fucked.
…Weasel Was Here
Subhumans: www.myspace.com/subhumanscanaduh http://subhumans.ca/
Alcoholic White Trash: http://www.myspace.com/41755304
Speckled Jim: http://www.myspace.com/speckledj
Chris Walter: http://www.myspace.com/gfy_press http://www.punkbooks.com/
Mr. Plow: http://www.myspace.com/mrplow