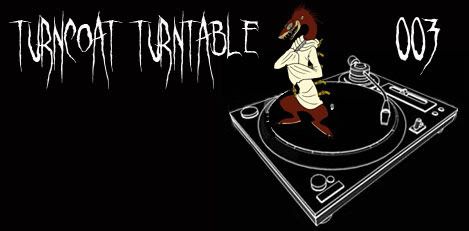 Lower expectations couldn't have been possible when I opted to check out AFI's eighth studio effort, Crash Love.  With a title and album cover seemingly designed to invite the same naysayers that lashed at 2006's Decemberunderground, I felt reluctant to give the guys another shot.   The idea that 'you're only as good as the last thing you've done' may actually work in this band's favor.  While their previous effort is almost unlistenable, I've wanted to listen to their newest on multiple occasions.
Their predictable and often imitated prelude track was nixed for the first time since their first release, Answer That and Stay Fashionable in 1995.   It seems that Davey scrapped the head turning, stomach upsetting, "screamo"-like growl found on their last album.  "Torch Love" started the program with a dark overtones, thanks to Jade's signature guitar riffing.  Davey's somber and mysterious voice reminded me of the post-Black Sails era and why we were quick to embrace his singing as well as his howling.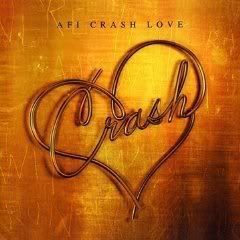 It would be my guess that the "song writing duo" that is Davey Havok and Jade Puget recently got their exceedingly electronic homages to Joy Division and The Cure out of their system.  Though synths are used subtly on "Beautiful Thieves," "End Transmission," and on varying points of the record, they are not nearly as present as on Decemberunderground or their love-child side project Blaq Audio.  The latter of two tracks contains one of the greatest, simplest verses I've heard in ages.  Havok's eerie vocal execution does everything to compliment Hunter Burgans infectious bass riff.  It's nice to really hear his playing, as it's often drowned in the mix—a problem of many big budget productions.  The diluted and desperate sound of the chorus prevents it from being my favorite of the album…. barely.
A poppy, bubble-gum chorus is found amidst Adam Carson's bombastic drumming and Jade's crunchy guitars in "Too Shy to Scream."  While it works surprisingly well there, hearing "anything"' over and over in "Torch Song" or "flash, flash, car crash" heard in "I Am Trying Very Hard to Be Here" might irritate the best of us.  Good or not, their catchiness is undeniable, and the production, for the most part, is well executed.  This couldn't be more true when "blue heart, black eyes, feigning falling, words I won't forget" is heard in "Veronica Sawyer Smokes."
"Medicate" (their strongest single released in years), "Sacrilege" and "Cold Hands" all offer what I'd consider the best of both worlds of AFI: well crafted guitar hooks and/or solos combined with anthem-like cries and memorable choruses.  They may have overcompensated, leaving "Darling, I Want to Destroy You" as the first and only horrible song within this collection.
When I fell in love with AFI, a band short for "A Fire Inside" eleven years ago, they weren't the same band they were in the years that preceded my memorable skateboarding jaunts to my first job.  The same held true when my little sister fell in love with them at a young age; years later, it's clear that the evolution continues.  Avoiding an even more bloated mainstream attempt than their last (see Green Day) and refusing to pretend they are who they were 10-15 years ago (see Rancid) these punk turned pop-rock artists haven't looked back.  While they are mature enough to craft something worthy as
Crash Love
, I'm thankful and surprised I'm mature enough to admit it.  I, too, stopped flipping burgers years ago
.
…Weasel Was Here




out of 5 weasels.
Choice cuts: End Transmission, Medicate, Sacrifice

Click the play button beside each track for free 30 second MP3's or the track name for lyrics in a new tab/window.


1. Torch Song

3. End Transmission

7. Medicate

8. I Am Trying Very Hard to Be Here

9. Sacrilege

10. Darling, I Want to Destroy You

11. Cold Hands

12. It Was Mine
Never trust a weasel.  Support the artist and find out for yourself.  Lyrics courtesy of Lyrics Wikia.  30 second MP3 samples courtesy of Amazon.com, where standard and deluxe editions can be purchased here.  WestCoastWeasel.com encourages purchasing Crash Love locally at Red Cat Records in Vancouver  B.C or at any independent record store of your choice.