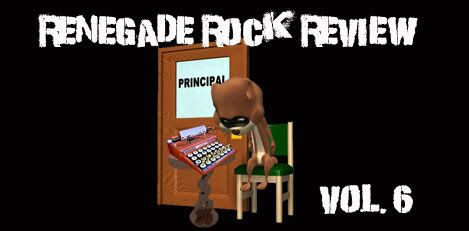 October 26, 2009 Rickshaw Theatre, Vancouver, B.C
The first of two Vancouver acts, Cambridge, kicked off the evening playing their tight, up-tempo brand of political punk rock with two dueling vocalists, Eric and Jesse.  While the level of their voices could have been more favorable, the vocal mix did improve mid-set.  As the crowd started piling in, the band-fan interaction was minimal, other than a quick mention of their discontent for the 2010 winter games.  Being my first time seeing them, I was intrigued and hoped it wouldn't be my last.  Despite the breaking/replacing of Eric's guitar string near the end of the set, it went unnoticed to most, to be quickly tuned and ready for their set closer "Problems and Solutions."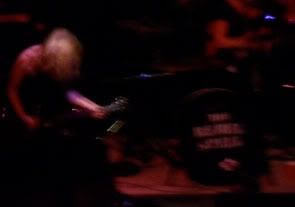 Two ladies, one bass player and a mohawked vocalist sporting an R.I.P.-Cobalt tee filled the second opening slot of the night.  The Rebel Spell, a hardcore street style outfit full of socially aware anthems blew us away.  Again, Todd Serious' vocals were a little buried, but it really didn't matter—the intensity shared among them was incendiary.  Chris Rebel stood out of his provided spotlight—leaving the focus on the remaining three—but it was his playing that shone most.  His bass lines were more than a simple mask of the lead guitar chords, unlike many other players.  Hearing Erin's heavy, spot-on guitar and Stepha 's insistent drumming left Todd in good hands to sing his political hymns.  The Rebel spelled every action and emotion needed to precede our beloved, respected thrashers Propagandhi. After a lengthy pause between sets, a gentleman activist approached the crowd with some key information regarding the tar sands project.  Funded by the Royal Bank, the tar sands operation in Alberta will defy native treaty rights, destroying land the size of England while increasing global warming.  Stickers were offered for Royal Bank machines and/or windows which enthusiastic people will undoubtedly use.  I wonder if the large Royal Bank next door to the venue saw any "redecorating" the next morning. After ripping through their latest album Supporting Caste's title track, the four skids we waited patiently for flattered the patrons of Rickshaw Theatre, saying "How's it going, fuckfaces? We're Propagandhi from Loserville."  They paid homage to Canadian thrash legends Sacrifice with the aptly titled "Bangers Embrace," described as a song "about the power that music transcends."  Pretty big words coming from some of the most powerful musicians in our country.
While earlier I couldn't help notice how tame the crowd was (and these days in general), I was suddenly stopped dead in my tracks.  Fuck 2009, it was 1996 all over again when "Nation States" (the tune that started it all for me) erupted.  The crowd of hundreds went nuts, singing "what a stupid world" and "they own us" in perfect unison over the band.  I found it admirable and fitting that "States" was followed by "Rock for Sustainable Capitalism," a song detailing their discontent with the music industry, namely the colleagues who've shared both record label and/or fan base from the start of their career.
Musically the guys were bang on.  Seeing them perform with second guitarist David "The Beaver" Guillas for my first time, I felt, gave them far more range and ability.  This was heard when lead duties were left to Chris Hannah during "Human(e) Meat," a "warning to all post-vegetarians."  Fresher numbers like this complimented classics like "Pre-Teen McCarthyist" and "Less Talk, More Rock" throughout the set.  Before closing with "Last Will of Testament", Todd "The Rod" Kowalski pointed out that he could die happily knowing that Chi Pig from SNFU was at one of his shows.  One-thousand punk rock fans stood amped, craving more.
Todd came out first, explaining that since they hadn't been here in a while they'd play a few more but with one simple rule:"everyone has to fuckin' giv'er."  Chris, who previously mentioned how he liked our spirit (as it was superior to Saskatoon's) called out all pathetic Canuck fans.  I couldn't imagine that either of these two gents will enjoy themselves as much when they crossed the border the following day. Our southern brothers may not connect with the encore opener, "Dear Coaches Corner," an "open letter to the CBC" regarding Don Cherry's insisted use of Hockey Night in Canada as his own personal soapbox.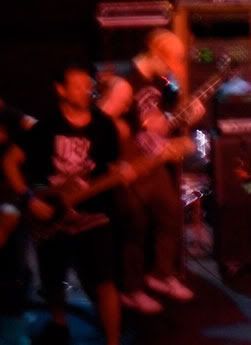 "Speculative Fiction" followed, and then finally "that song," the first song from 1993's How to Clean Everything—my favorite, and quite possibly yours—"Anti-Manifesto" rounded off the evening.  Their organizational mastermind (not "manager") took over and played the last few bars of bass guitar as Todd performed a rolling stage dive into the crowd and Chris exclaimed, "If you're never going to stand up, you might as well lay down!"  Chris and fans shouted the lyrics "we stand for something more than a faded sticker on a skateboard."  This was obvious back then and is even more so now.  Thank you Chris, Todd, Jord and Dave for a thorough fucking ass kicking… we needed it.
…Weasel Was Here
Setlist:
1. Supporting Caste
2. Tertium Non Datur (right?)
3. Banger's Embrace
4. Iteration
6. Rock For Sustainable Capitalism
7. Less Talk, More Rock
8. Human(e) Meat
10. Natural Disasters
11. Bringer of Greater Things
12. Without Love
13. Mate Ka Moris Ukun Rasik An
14. Pre-Teen McCarthyist
15. Purina Hall of Fame
16. Last Will and Testament
Encore:
Anti-Manifesto (live)
Purina Hall of Fame (live)
Banger's Embrace (live)
Rock For Sustainable Capitalism (live)
Nation States (live)