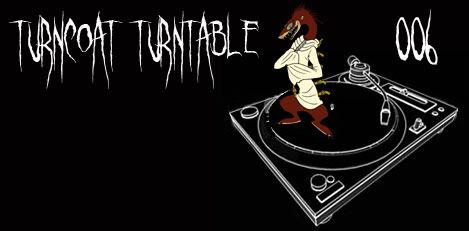 After a couple of listens I didn't hate this album as much as I originally did, but the bad taste in my mouth remains. I want to state that although I'm a big fan of the Strokes, I wasn't expecting another Strokes record. However, I was expecting a strong effort by a respectable artist who I imagined could do no wrong. Shows what I know… First of all, if you're going to jump on the "rock turned electronic solo" bandwagon, at least make use of sonically pleasing synth loops, less akin to the Casio keyboard sound or Mini-Pops cassettes from my youth.

After listening to "Out of The Blue" and "Left & Right in The Dark," I couldn't help double checking the tags of my MP3s looking for "PIECE OF GARBAGE JOKE VERSION," thinking that maybe I was listening to some asshole's remix of an otherwise listenable record. Unfortunately, I was incorrect and still had six more songs to go. While that may not seem like an eternity, Julian had the audacity to pen each song at an average length of five minutes. A five minute average? Move over Maynard—we have a new dickhead in town. This may work for a Tool or Zeppelin album, but this longer-than-average pop/rock length only increased the crap-per-track ratio. I'm unsure where Julian "I Wish I Was Creed" Casablancas (follow link for a brilliant interview/explanation) was going with this counter-mainstream/radio-friendly angle. At points I thought the album might be alright if they scrapped the often out of place, cheesy keyboards and glittered beats, but was reminded at each 3:00 timestamp how boring the songs truly are. The single, "11th Dimension," has a catchy keyboard riff that is reminiscent of Gloria Estefan, 80s era Madonna or something equally as "hot." Perfect.
"Getting the hang of it / Timing is everything," a mundane, monotone chant in "River of Brakelights," reminds me of the low lyrical points of First Impressions of Earth—but worse—thanks to the irritating music behind it. The only (semi) worthwhile part of this collection—for me—may be the personal touch that Julian puts on his lyrics. His bitterness in "Out of The Blue" and his addressing of demons in "Ludlow St." actually hit home. Musically, "Tourist" ends up being the coolest, grooviest, and darkest cut on the album, offering some dirty guitar riffing and horns, but then is overshadowed with clashing electronic beats that I imagine were a total hell to mix. I can't imagine any of the songs having any commercial viability—though if there was one of the bunch—this would be my pick.
I thought Chris Cornell's latest solo effort couldn't be topped as most laughable modern rock solo album, and then Julian unleashed Phrazes for the Young. Cornell's album failed Soundgarden fans but perhaps with the correct push it could have appealed to the Timbaland crowd. Phrazes won't fare well with either indie rock or Top 40 fans. Sometimes we all need a clear reminder that the frontman of a successful rock group can only take credit for a fraction of their releases efforts. Julian: find your friends, get back to work, and stop screwing around.
…Weasel Was Here
Choice cuts: Ludlow St, Tourist


out of 5 weasels.
Press PLAY for free 30 second MP3, or track name for lyrics in a new tab/window

1. Out Of The Blue

5. Ludlow St.

7. Glass

8. Tourist

Never trust a weasel. Support the artist and find out for yourself. WestCoastWeasel.com encourages purchasing Phrazes For The Young locally at Red Cat Records in Vancouver, B.C, any independent record store of your choice or online here. Lyrics courtesy of LyricWiki.